NOTES ON CHARACTER & LOCATION ENTRY
---
CHRONOLOGIES

The most recent Official Indexes produced by Marvel went to exhaustive lengths to provide chronological details on character appearances, noting where the character last appeared and where they would appear next. The Comic Book Index does not strive to take on that monumental task in its entirety, yet the References Tab of the Issues form is available to notate important other issues, which can include chronologies when deemed necessary. Below are reference links from Iron Man #182, which notate the next apperances of two important characters in the story.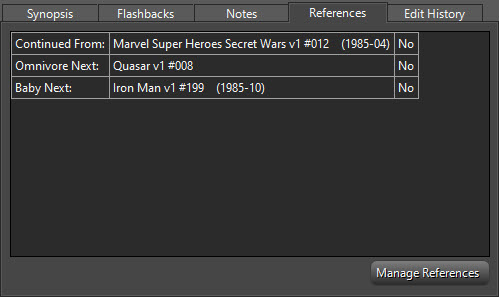 ---
A WORD ABOUT FLASHBACKS AND OTHER APPEARANCE TYPES
The Official Indexes also noted characters who appeared in symbolic splash pages, on covers only, or in flashbacks. The Comic Book Index will only be tracking actual appearances by characters in the story . Flashbacks should ONLY be included if the flashback reveals NEW information. If you're not sure that a flashback reveals anything new, Flag it for Review.
Dream sequences, or instances where characters do not actually appear in the story except for in someone's thoughts, are also not to be notated in the Character listing.
If a character appears in shadow and his/her identity is not revealed, notate it as a BTS (Behind the Scenes) appearance and provide an explanation in Notes.
---
WHEN ENTERING A NEW CHARACTER

When entering a new character, always try to add a qualifier. If the character has a real name, include that in parenthesis. For example, Iron Man (Anthony Stark). If the character's identity is not known, try to include an identifying characteristic that will differentiate that character from others that may have the same name. At a minimum, at least put (Unrevealed) after the name.
---
WHEN ENTERING A NEW LOCATION

When entering locations, there are several things to consider. If entering a specific location (for example, "Los Angeles", make sure to include the state - Los Angeles, California.

When entering character or group headquarters, try to notate specific locations. For example, there is a general entry for AIM Base. There is also an entry for AIM Base (Boca Caliente). Making sure to do this will help in searching for specific information. If a user wants to find all AIM Bases, they will choose AIM Base from the list, and the result list will include any AIM Base, including Boca Caliente.
---
FLAGGING CHARACTERS AND LOCATIONS FOR REVIEW
If an unknown character or location appears in an issue, there is an option to Flag the issue for Character or Location review. Right-Click on the Character or Location lists on the Issues form and choose the "Flag for Review" option. You'll be prompted to add a short description of what needs reviewed to Notes. Save the entry. Then, as time permits, try to research it using dependable sources (other comics, the Appendix website, or ask the OHotMU Group or Masters of Obscurity for help).
Editors can also create a Task for Character and Location review if they want to escalate the process. Right Click on the form and click the Add Task option.