EDITING OVERVIEW
---
If you've been approved to become an indexer/editor for The Comic Book Index, you will be given a username and password that must be entered at the Navigator window in order to access advanced editing functions. Clicking on the

button will display options for logging in: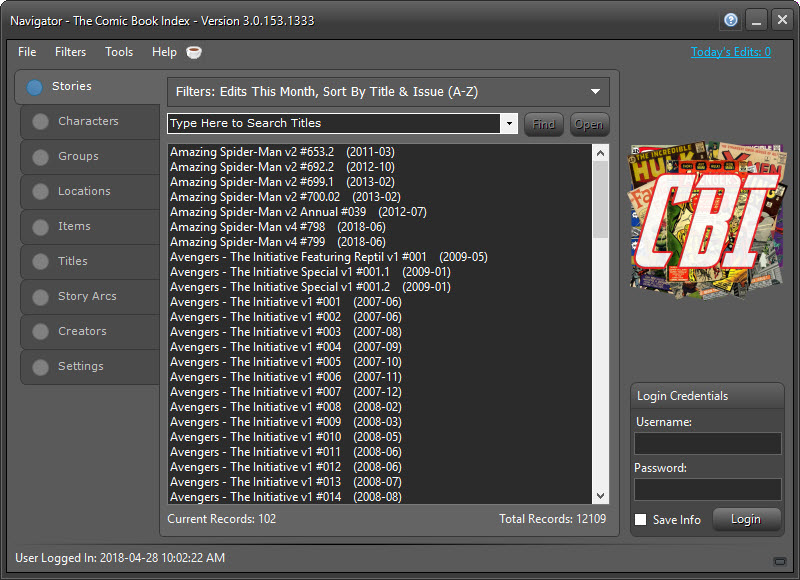 Type in your username and password.
Check the

box if you want the application to remember your login information. The next time you log in, the username and password will be auto-filled
TIP: On the Options tab, select the Automatically Login on Program Start checkbox from the Startup & Shutdown options to automatically log you in whenever the program starts.
Click the Login button to attempt to login. If the information does not match up, you will be notified that the login has failed. After three unsuccessful login attempts, the program will lock for the current session. Contact the program administrator for help on logging in.
Depending on your security level, once you have logged in you will have access to additional options and functionality not available to standard users. These functions will allow you to create and edit records within The Comic Book Index and track data that needs to be updated.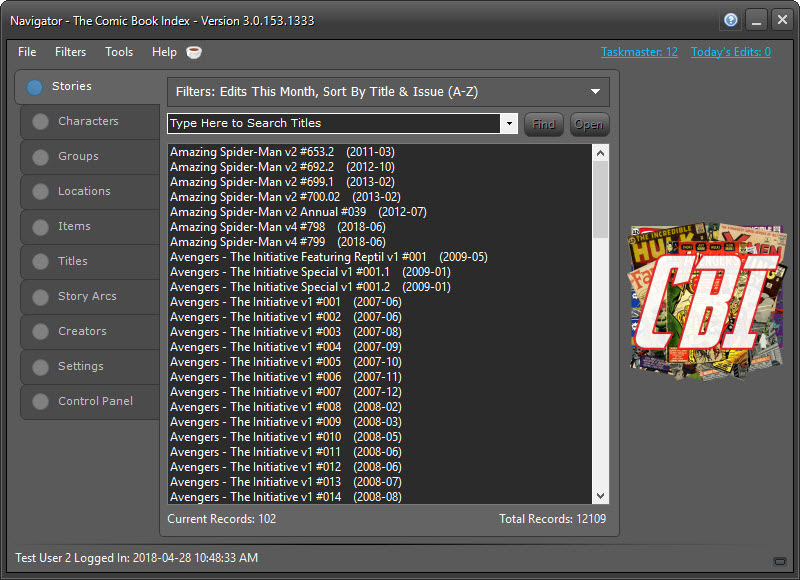 A new link appears at the top of the Navigator:

The Taskmaster is a tool for Editors to assign tasks to themselves or other Editors. The link shown above will include a number if you have any open Tasks assigned to you.
A new tab appears at the bottom of the Navigator:

The Control Panel tab has tools for Editors to track items that need to be updated, such as issues needing cover scans, missing credits, etc. Tracking of Tasks, Title Reservations, and Personal Statistics can also be done from the Control Panel.
---
Tabs for Characters, Groups, Locations and Items have additional buttons available: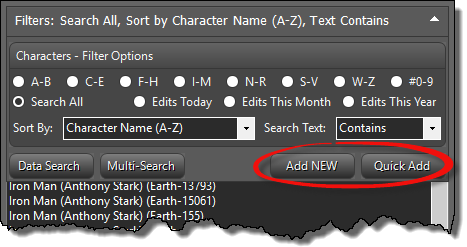 Clicking

will open a window to add a new record for Characters/Groups or Locations/Items.
Clicking
will open the Quick Add form to add new records faster, but with less details. This window is also used when adding new Character or Location records when creating a new Issue record.
---
For Editors, all forms will now have an Editor toolbar available:

And the same options are now available in the Comics or Records pull-down menu, which will also show keyboard shortcuts: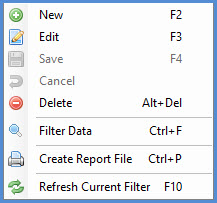 NOTE: Level 1 Editors will not have a delete button available.
---
An additional Navigator Filter Menu option becomes available: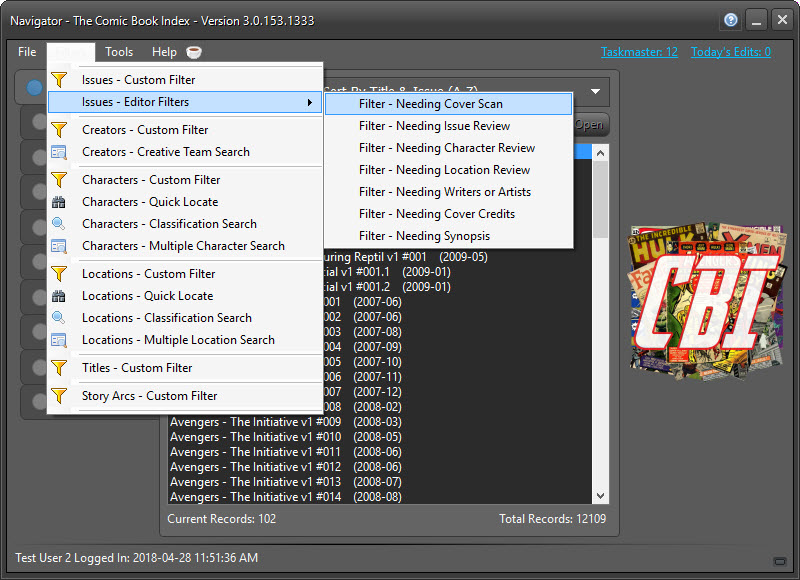 Editors can use these menu options to open Issues forms filtered to specific editor-related content. These options are also available from the Control Panel Tab
---
Additional context (Right-Click) menu options become availablel On the Issues window: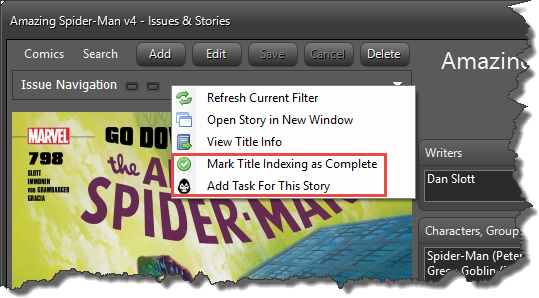 You can choose to Mark Title Indexing as Complete if you're done indexing all issues of a Title.
You can also choose to add a Task for the current story. This will open the Taskmaster and fill out some of the initial information.
On the Characters and Locations forms, you can choose to add a Task for the current Character or Location.

---
For information on becoming a contributing indexer, fill out the contact form and we'll get back to you shortly. We are always looking for interested contributors to index comics and update character and location information!