CHARACTERS & GROUPS
---
The Characters & Groups form works in conjunction with the Issues form to provide quick information.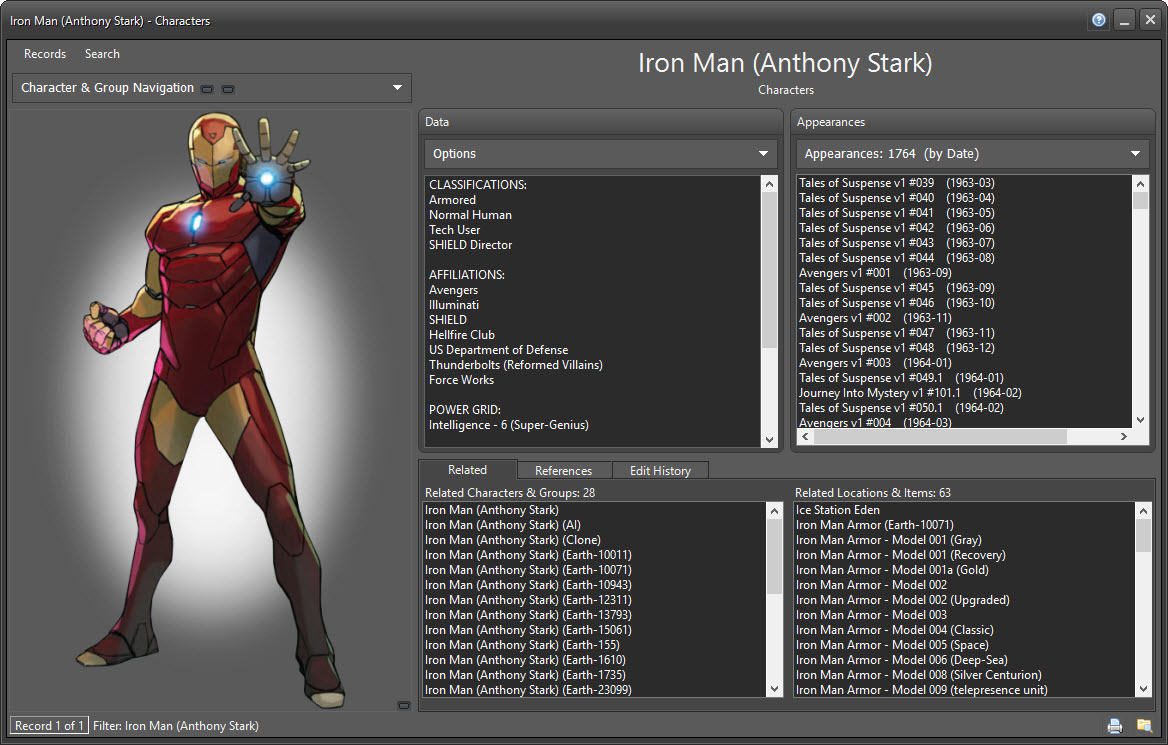 Characters Classifications, Affiliations, Power Grid stats and Notes are available on the Data tab.
---
RELATED CHARACTERS & GROUPS and LOCATIONS & ITEMS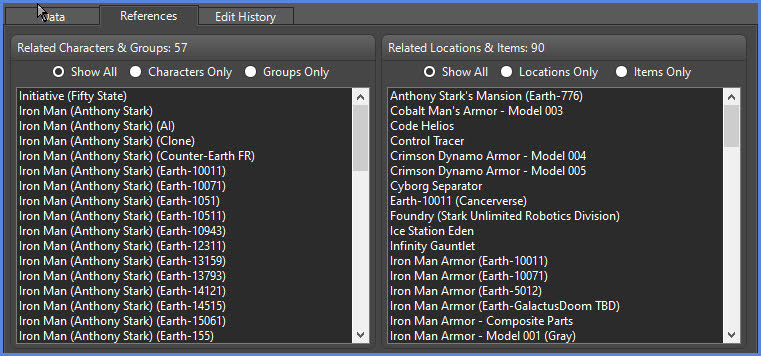 Records related to the subject entry are displayed in clickable listboxes. Double-click to open an entry in a new window.
Right-Click menu options allow you to open the Related Characters & Groups entry in the current window or a new window, and allow you to view the subject image, or a gallery of all images in the list. You can also print the Related Characters list to a text file that will be saved in the Comic Book Index Data folder.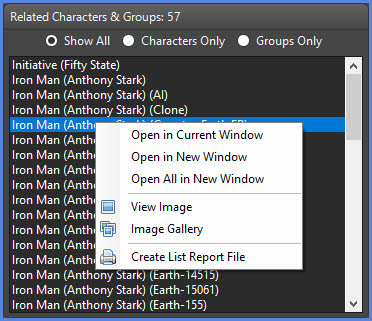 ---
REFERENCES
NEW FEATURE References to specific issue are displayed on the References tab. Here you will find links to specific issues of importance to the character. External website links can now be added as well. Click on the issue name or website URL to access them.

---
EDIT HISTORY
Edit History is also available for viewing. This will contain a listing of all edits done to the current record.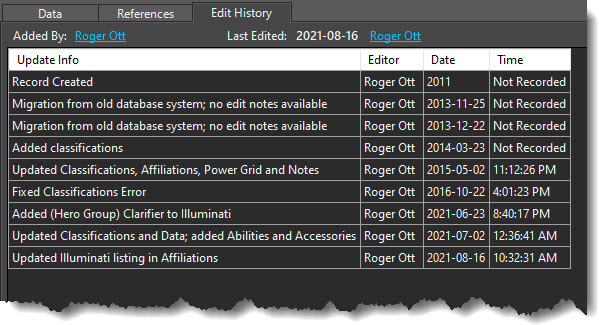 ---
By default the appearances listing shows all indexed issues containing the subject entry (ie. Iron Man (Anthony Stark).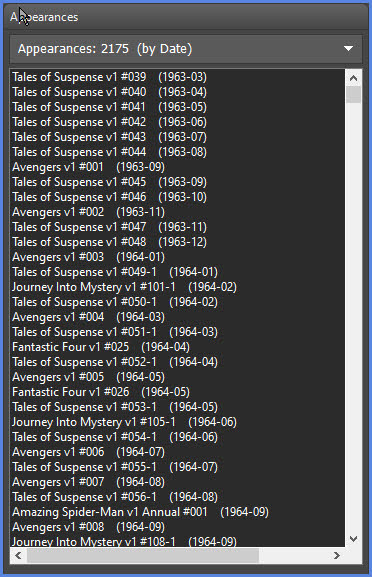 Double-click on a story in the list to open it in a new Issues window.
Right-Click the Appearances list for additional menu options: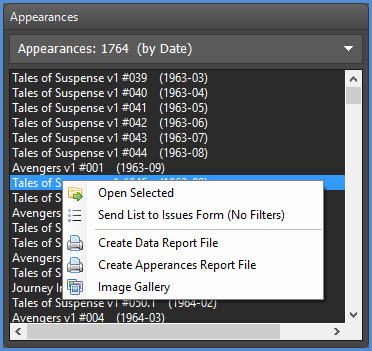 Click the Send List to Issues Form (No Filters) link to open a new Issues window with all Iron Man (Anthony Stark) appearances for detailed viewing.
Print Data to File will print all Character data to a text file
Print Appearances to File will print ONLY the appearance list to a text file
Image Gallery will open an image gallery of all issues listed. WARNING: Long issue lists may take some time to load.
---
APPEARANCE FILTERS
There are also options available to allow users to filter the appearance results down to more specific listings. Click on the Filter button above the appearance list: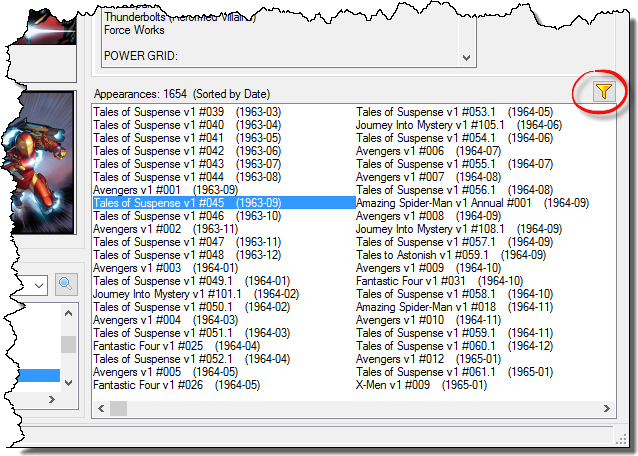 This will reveal a panel of Appearance Filters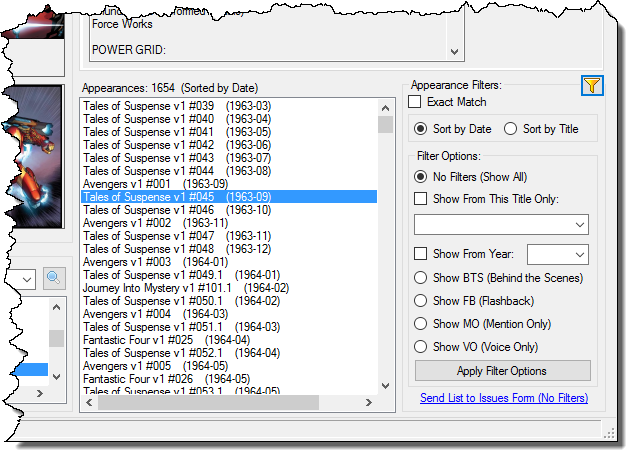 NOTE: In Version 1.0 this panel was always visible.
Checking the

checkbox will filter the results to only show issues where the exact subject name appears. For instance, if you were on Anthony Stark, by default it would show any issue where the name "Anthony Stark" appeared, including issues where he appeared as "Iron Man (Anthony Stark)". Checking the box would filter the results to show only those issues where he appeared as "Anthony Stark", excluding any appearances as Iron Man.
The appearance listing defaults to

To sort by title, click the radio button for Sort by Title. The Appearances list will update automatically, and the header will reflect the sort option.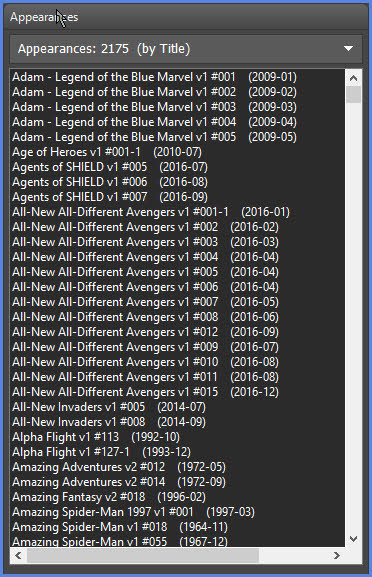 Check

to fill the dropdown with all indexed titles the character has appeared in. You can then choose a particular title from the list, in this case, Avengers v1.

Click on

to refresh the Appearances list to only show stories in Avengers v1 where Iron Man (Anthony Stark) appeared.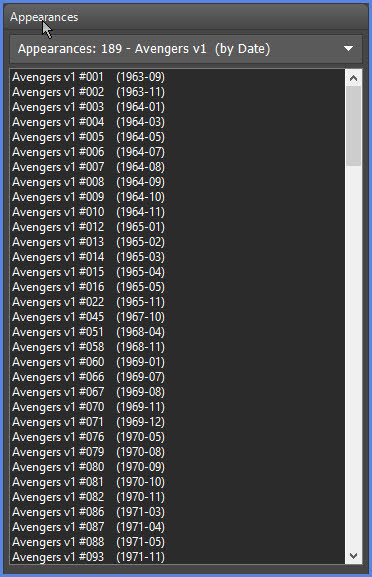 Check

and choose a year (in this case, 1971) from the dropdown, then click

to show stories from 1971 where Iron Man (Anthony Stark) appeared.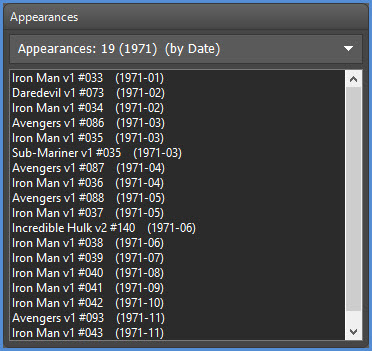 Title and Year filters can be used together for more precise results. For instance:

The filtered result would be: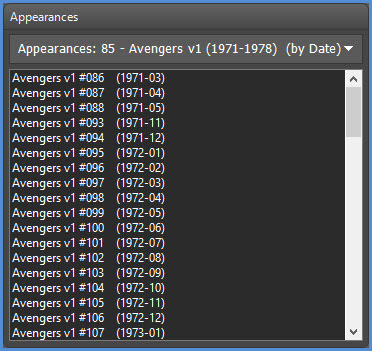 Users can also choose a radio button to further filter results:
Only one radio button can be chosen at a time. If you chose BTS (Behind the Scenes) , the result list would filter down to show just appearances where Iron Man (Anthony Stark) appeared behind the scenes.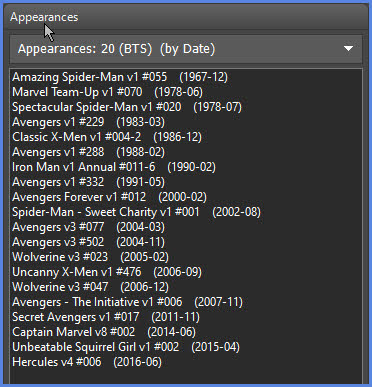 TIP: To find all appearances of a particular character, try to find their alter ego (real name). For instance, Hank Pym has had several different costumed identities since his introduction. To find all of his appearances, regardless of identity, find Hank Pym in the characters list, leave "Exact Match" unchecked, and you'll also get appearances for Ant-Man, Giant-Man, Goliath, Yellowjacket, Doctor Pym, and Wasp.